Enjoy the beauty & aroma of our fresh Christmas Trees!
Christmas Trees to Cut
Choose and cut your own tree. $79
Scotch Pine – Available 2023 (4′ – 8′)
The scotch pine has a stiff needle, approximately 1″ in length. The color is a bright green and is sheared to a traditional Christmas tree shape.  The Scotch Pine has excellent needle retention and will remain fresh throughout the holiday season. We are excited to offer this popular Kansas tree again.
Austrian Pine – Available 2023 (5′ – 9′)
Austrian pine has long, fragrant, stiff needles with a dark green color. The tree is boldly textured and dense. It can hold large and heavy ornaments.
Virginia Pine – Limited availability 2023 (5′ – 9′)
The branches of the Virginia Pine are stout and woody. The tree is small to medium in size and its foliage becomes extremely dense. Our Virginia Pine will have a traditional Christmas tree shape and can hold a variety of ornaments.
White Pine – Currently Unavailable
The white pine has soft, flexible needles and is bluish-green in color. Needles are 2½ – 5 inches long. White pines have good needle retention but have little aroma. White pines are beautiful, soft, natural trees. They aren't recommended for heavy ornaments.
Pre-cut Christmas Trees (See descriptions below.)
All Pre-Cut Trees are Pre-Priced $109+
Fraser Fir – Available 2023 (7′ to 12′- Limited availability on 9'+ trees due to a national christmas tree shortage.)
The Fraser fir branches turn slightly upward. These premium fir trees have beautiful form and excellent needle retention. They are dark blue-green in color, have a pleasant scent, and will hold many ornaments.
Canaan – Currently Unavailable
Canaan Firs have a bright green needle and a beautiful shape. With their pleasant, delicate fragrance, you will notice that Canaan first are closely related to Balsam firs but they are a bigger, heartier tree.
Fralsam Fir – Currently Unavailable
Fralsam Firs were developed by Christmas tree growers in the Northeast. They are a cross between a Fraser and a Balsam and you will notice many similarities to our Fraser Fir trees. You will definitely notice the wonderful scent from his tree. You can expect a full tree with dense needles.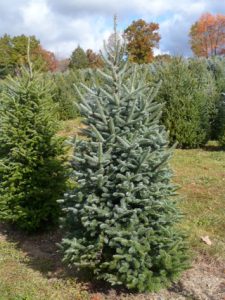 Noble Fir – Currently Unavailable
These needles turn upward, exposing the lower branches. Known for its beauty, the noble fir has a long keepability, and its stiff branches make it a good tree for heavy ornaments.
Concolor Fir – Limited Availability 2023 (10′-12′)
These small, narrow needles are around 1 to 1½ in. in length and occur in rows. They have good foliage color, good needle retention, and a pleasing shape and aroma. Ornaments will take center stage on this open-branched tree.
Flocked Trees (5′ – 8′)
$129 – $199
We have a large selection of flocked trees ready to take home. We will not have custom flocking at this time.
All tree options are subject to change depending on availability.
"Our family tradition for two generations now, has been to gather the family, head to Prairie Pines Christmas Tree Farm, and pick our own Christmas tree. EVERY year. Love it!"
CRISER FAMILY, Wichita KS
"Our kids (ages 5 to 14) just love all the Christmas fun at Prairie Pines Christmas Tree Farm. Wagon rides, hot cider, the store, all the decorations. Nothing like the aroma of a fresh cut Christmas tree."
STEVENS FAMILY, Wichita KS